Covid-19
Video message concerning COVID-19, from our President & Owner, Jill Carlson. Learn how PARK CO., REALTORS® is being impacted, how we are operating safely for everyone's protection, and our thanks and gratitude to our community during these times.
---
Park Co. Topics on COVID-19
Please click on the following links below in regards to the topics on COVID-19 (coronavirus) to learn more from PARK CO., REALTORS®. Thank you!
Frequently Asked Questions (FAQ's) on COVID-19

PARK CO., REALTORS® Statement on COVID-19
The Power of Park…Here For You!
Like the rest of the world, the real estate industry is experiencing a period of uncertainty. While each day brings new challenges, the PARK CO., REALTORS team continues to vigorously do what we do best…serve our clients. During this critical time, we promise to keep you informed with up-to-date market knowledge and provide you with the guidance you need. PARK CO., REALTORS has been in business over 60 years, and we have weathered major floods, recessions, and everything in between. We have the proven experience to navigate difficult times, and we can assure you that our team is committed to providing top-notch service throughout the Fargo-Moorhead and Lakes region.
As always, our agents, staff, and clients' safety and well-being is our top priority, and we have the tools in place to function virtually as needed. Buyers are able to view listings via virtual tours, attend virtual showings, and view photos and information through our PARK app. For those critical in-person interactions, we have strictly enforced safety measures for both buyers and sellers. The bottom line is- we will meet our clients where they are comfortable.
Know that we are committed to doing our part to keep the economy going by supporting our buyers and sellers and ensuring that real estate transactions continue to move forward. We have actually worked through this world-wide pandemic to see our best JUNE in the history of PARK! Followed by very strong July, August, and September months. We know that tough times do not last but tough companies do. We've successfully faced challenging times before and we will do so again this time around.
From all of us at PARK CO., REALTORS, we thank you for your ongoing support and partnership. Stay safe and stay healthy!
Thank you!
---
PARK CO., REALTORS® FAQ's on COVID-19
We have been asked many questions on how PARK CO., REALTORS® is operating during COVID-19. Below we have provided our Frequently Asked Questions (FAQ's) in infographic (image) and PDF file format. If you have a question that you do not see on the FAQ, please contact us!
FAQ - Infographic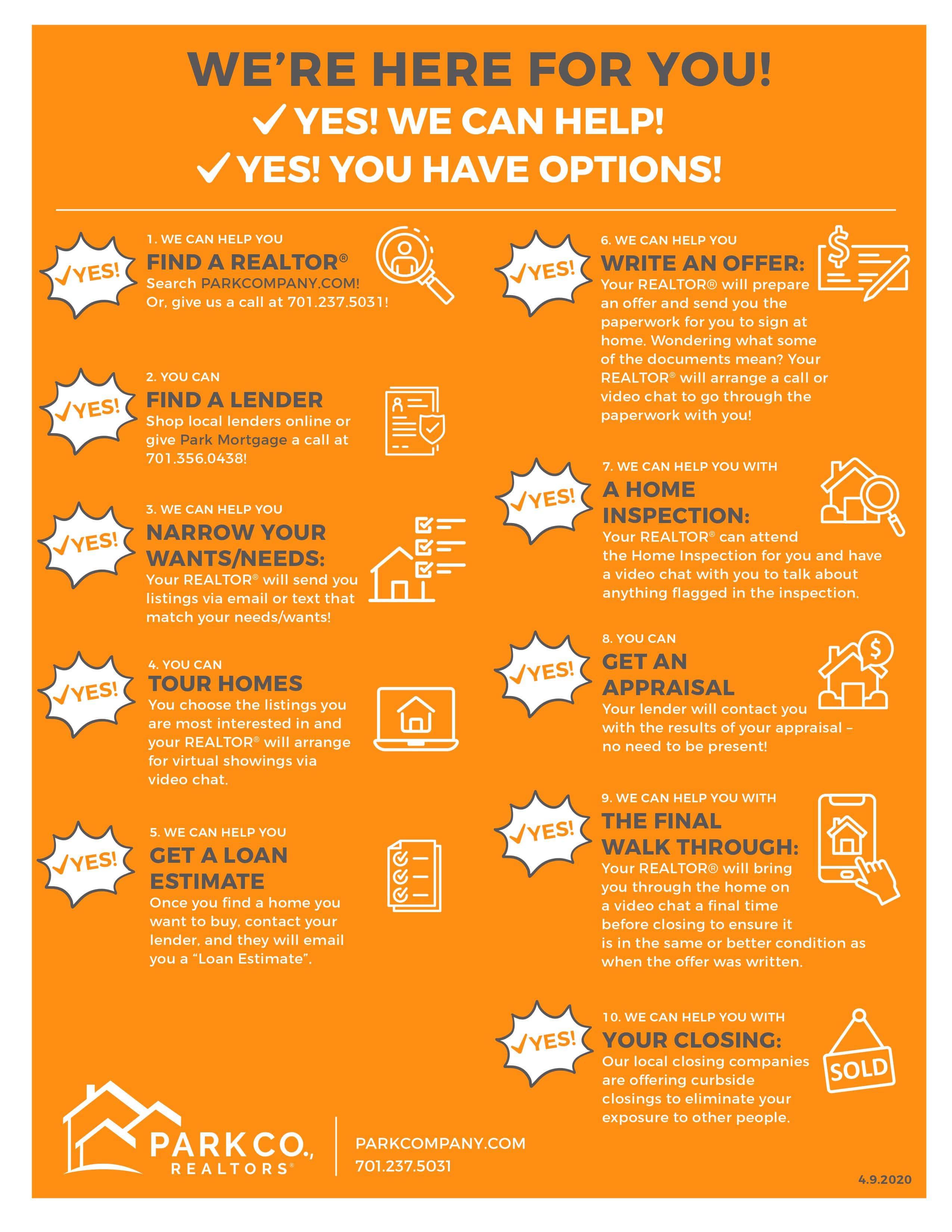 FAQ - PDF Format
You can view the FAQ's in our convenient PDF Format by clicking on the link below!
PARK CO., REALTORS®: COVID-19 FAQ's (PDF)
---
Other COVID-19 Resources
CONSIDERATIONS FOR EMPLOYERS, EMPLOYEES



UNDERSTANDING ECONOMIC IMPACTS



KEEPING WORKPLACES SAFE AND HEALTHY
Testimonials
" Suzanne was great, she went above to help us. "
- Karen Milstead
" Suzanne worked so hard to sell my home and to keep me positive when things weren't going as I'd hoped. I always felt supported because of Suzanne! "
- Joan Maring Nelson
" Everything went according to plan "
- Alexander Dawson
" Suzanne is the best and is brutally/wonderfully honest when it comes to the market and your home. She worked extremely hard in selling our home, and is the greatest to work with! 10/10 - would work with again! "
- Kylie Vadnais
" We were very happy with how Suzanne helped us through the complete process of selling our home. We had lived there since 1977, so selling our home and moving was a new challenge. We are now happily getting settled in our new home. Thanks Suzanne! "
- Dr. Tom Fellman
" It was a wonderful experience working with Suzanne. She knew exactly what we wanted and helped us to narrow down the listing and she was very knowledgeable on locations and the houses she showed us. "
- Jyoti Kakarala
" We have done several transactions with Suzanne Maring. She makes the home selling and buying process seamless through her thoughtful attention to every detail from listing agreement through closing. Suzanne is a true professional. "
- Katrina Lang
Previous
Next